The SMS Add-in for Microsoft® Outlook® allows you to send and receive SMS messages in Microsoft® Outlook®.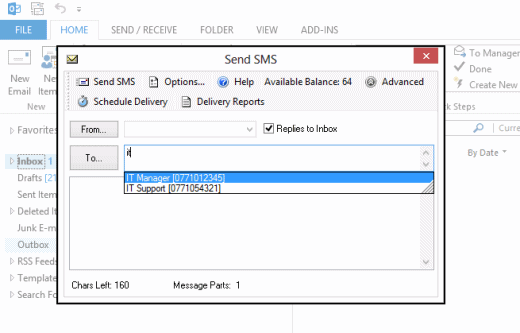 The SMS Add-in for Outlook® integrates with your address books making it easy to send SMS messages to individuals, groups and distribution lists: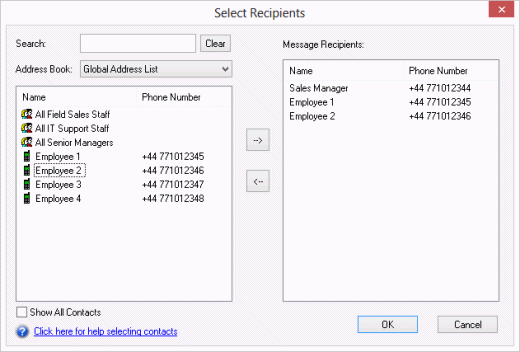 The Add-in can send SMS reminders for your calendar appointments and meetings. Reminders can be sent to your own mobile, all meeting attendees or to your customers and clients.

Features:
Provides full 2-way SMS functionality within the Microsoft® Outlook® environment.
Receive SMS replies back into your Outlook® inbox (Dedicated Number not required). read more >>>
Tightly integrated into Outlook® Environment. read more >>>
Bulk send SMS to up to 100,000 recipients in one go.
Copy and paste number lists from Microsoft® Access® and Excel®.
Receive SMS reminders of appointment and meetings. read more >>>
Integrates with your personal and corporate address books.
Fast recipient entry with auto-complete and search Features. read more >>>
Fully supports messages to groups and distribution lists.
Support for multipart long SMS messages.
Schedule messages for delivery at later date.
Support for message delivery reports.
Download:

Download IntelliSMS Addin 5.0.1 for Microsoft® Outlook®
Pricing:
The SMS Add-in for Microsoft® Outlook® is available to IntelliSoftware customers free of charge. To send SMS messages you will need an SMS account. There is no setup or monthly charges, you just pay for the messages that you send. Simply click here to register and receive 2 free evaluation credits.
System Requirements:
Microsoft® Windows 10, Microsoft® Windows 8, Microsoft® Windows 7, Windows Vista, Windows® 2008, Windows® 2003, Windows® 2000, Windows® XP, Windows® NT
Microsoft® Outlook® 2000, 2002, 2003, 2007, 2010, 2013, 2016, 2019, 2021, Office365, Office365 ProPlus
2Mbytes of free Disk Space
Technical Support:
Technical support is available by sending an email to support@intellisoftware.co.uk
Microsoft and the Office logo are trademarks or registered trademarks of Microsoft Corporation in the United States and/or other countries.