Contact Information
Please call us now to discover how IntelliSoftware can assist your business with its mobile messaging requirements.
Sales Enquires
Technical Support
Mailing Address
IntelliSoftware Ltd.
Arena Business Centre
Holyrood Close
Poole
Dorset
ENGLAND
BH17 7FJ
Company Profile
IntelliSoftware Ltd was founded in 1998 to develop innovative software solutions for business users. Specialisation in mobile messaging solutions began in 1999 leading to the launch of our first standard SMS product. This was quickly followed by hosted SMS internet gateway services in 2001. IntelliSoftware has enjoyed rapid growth and has a well established client base in the UK and overseas, achieving significant export sales to Europe and Asia Pacific region. Examples of blue chip companies that use our services include Hewlett Packard, Ericisson, Vodafone (Albania), Capita, Lastminute.com, Microsoft and AMP.
Intellisoftware is a customer focused and agile organisation, allowing us to work with organisations of all sizes in both the public and private sectors. We continue to innovate in the mobile messaging arena and we welcome feedback from all customers so as to continue to provide solutions that solve real business problems.
Key Milestones
| | |
| --- | --- |
| 2022 | Launched WhatsApp Service |
| 2021 | Enhanced rule-based messaging automation features |
| 2017 | Online Data protection Tools |
| 2015 | Major reworking of the iPad, iPhone and Android Apps that provide a conversation based interface |
| 2014 | Brought subscription list management to the platform, with complementary Opt-out service via 86688 STOP |
| 2013 | Added major new features to the SMS Outlook Add-in and WebSMS |
| 2012 | Multiple platform enhancements, such as subscription list management, upload-and-send |
| 2011 | Launched Mobile Apps for iPhone and Android |
| 2010 | Launched SMS Voice Messaging Services |
| 2009 | Launched Outbound MMS MultiMedia Message Services |
| 2008 | Major Redevelopment of the Online Messaging User Interfaces |
| 2007 | Launched Outlook Mobile Services (OMS) Service |
| 2006 | Global Expansion to provide mobile services in Ireland, US, Australia and Italy |
| 2005 | Launched Inbound MMS MultiMedia Message Services |
| 2004 | Introduced LBS Location based service |
| 2003 | Launched Premium Rate SMS Service in the UK |
| 2002 | Launch of UK Virtual SMS number service |
| 2001 | Launch of Bulk SMS service gateway targeted at businesses |
| 2000 | Release of service-based SMS platform (ActiveSMS 1.0) |
| 1999 | Launched commercial mobile content service targeted at end users |
| 1998 | IntelliSoftware founded |
Support Forum
The support forum contains answers to commonly asked questions and problems. Please feel free to search the support forum before raising a call with our support department.
Standard Support
Technical Support is available from 8:00 - 18:00 Monday to Friday. Please contact our support department by the following means:
Out of hours support
Out-of-hours support is available 24x7 (inc. Bank Holidays). This is for raising service availability issues regarding the Internet SMS Gateway only. This service is not provided for dealing with development issues or issues related to the ActiveSMS software. For support please phone 01202 311572 (Manned answering service) and leave a message with your contact details. A duty engineer will contact you within 4 hours.
Privacy Policy
Any information you provide to IntelliSoftware (including recipient's phone number) will remain property of the account holder. IntelliSoftware will not redistribute this information to third parties without your consent, except where legally required by law to do so. This is with particular reference to any database, numbers and/or recipient details that you may deliver to us, or store on our databases. IntelliSoftware does not use supplied phone numbers to send advertising or marketing messages.
Internet Security
When interacting with our services via a web browser, sensitive and personal data is encrypted using SSL/HTTPS. When you login to the account section of the website you will notice a lock or a key at the bottom of the browser window. When interacting with our service through one of our programming API's you must take action to select a secure SSL/HTTPS channel.
Cancellation and Refund policy
Please contact us if you are not entirely satisfied with your purchase. We can provide a full or partial refund if you contact us within 30 days of the purchase. Where you have not made use of the service (i.e. no SMS Credits used) then a full refund is available. Where you have made use of the service (i.e SMS Credits have been used) then we will calculate a refund based on the unused portion of your purchase. We will initiate the refund to your credit card (or original payment method). We will handle your refund request within 2 working days.
SLA
Please download the PDF below for the SLA of the IntelliSoftware Internet SMS Gateway.
Service Architecture
The IntelliSoftware gateway utilises two redundant service nodes (www.intellisoftware.co.uk and www.intellisoftware2.co.uk, please see diagram below). The two service nodes are geographically separated ensuring the service is not susceptible to local internet outages. If a service node is unavailable, the IntelliSMS components automatically route to the available server. We maintain connections with multiple UK SMS operators, allowing us to send SMS traffic using the best performing route.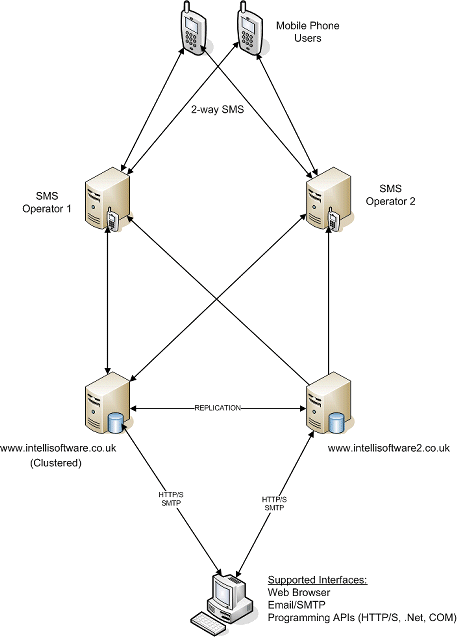 UK Mobile Networks
Trade Associations
Regulatory