Web SMS - SMS Messaging in your Web Browser

Web SMS allows you to send SMS messages and receive SMS replies over the internet using your standard web browser: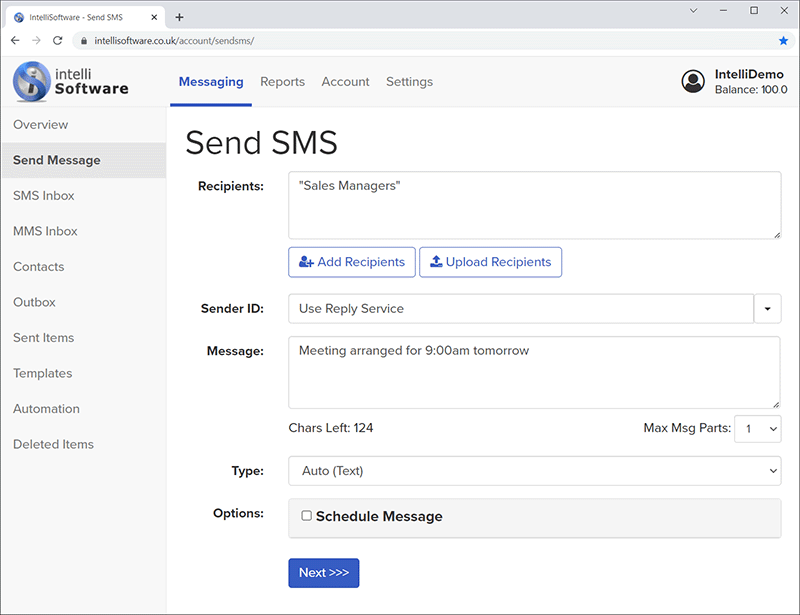 The Web SMS interface allows you to do the following:
Send SMS messages to individual or multiple recipients
Create and manage contacts and groups
Receive replies to messages you have sent
Send branded SMS messages
Get SMS delivery reports
Upload and Send - Upload messages from Text (CSV) or Microsoft Excel file
Send and recieve MMS Messages
Subscription Lists - Built-in management of subscription lists
Create and manage user subaccounts
Schedule messages to be sent later
Reply Service:
Our standard SMS accounts include the ability to receive SMS replies back in to an online SMS inbox, there is no extra cost for this service. Mobile users replying to your messages will be charged their standard rate.

Web SMS Pricing:
Web SMS is available to IntelliSoftware customers free of charge. To send SMS messages you will need an SMS account, there is no setup or monthly charges, you simply pay for the messages that you send. Click here to view message prices.
Getting Started
Please feel free to trial our SMS texting service, simply click here to register and start sending SMS messages immediately with 5 free evaluation credits.